Starting a family is one of the greatest joys of life. It can also be the most worrisome and, at times, confusing. Infants and small children are vulnerable and rely on a parent's wit and smart decision making to remain safe.
Per 100,000 live births, there were nearly 3,700 sudden unexpected infant deaths (12 months old and younger) occurred in 2015, according to the Centers for Disease Control and Prevention. Around 1,600 of these deaths were a result of Sudden Infant Death Syndrome (SIDS), and around 900 were due to suffocation. About 1,200 infant deaths were of unknown causes.
Injuries and accidents do not only occur to infants. Around 9,000 children up to the age of 19 die annually from unintentional injuries in the U.S. Many of these injuries are preventable, especially the ones that occur in the home.
Numerous home safety products, as well as childproofing equipment, are available on the market to aid in providing a safe environment. There are so many products that it may seem overwhelming—even water safety is of paramount importance.
You may have little idea what to purchase out of all the available options. Identifying the biggest safety concerns first is a good place to start.
1. Secure Sleeper
The most common place for injury in infants and toddlers is the crib. Any objects, such as pillows, blankets and toys in the crib, can lead to suffocation in infants. The sheet on the mattress can come undone and lead to suffocation as well.
The peak ages for death from SIDS is three to five months old. Secure sleepers can significantly reduce the risk of SIDS and other injuries sustained from cribs. Many families use a secure sleeper for safe co-sleeping. However, it can also be placed in a crib. A secure sleeper typically has mesh siding for airflow if the baby turns their head and has no extra bedding.
Most secure sleepers are portable for travel as well. The First Years Close and Secure Sleeper has earned itself high ratings from consumers and is a great choice. The sleeper contains a removable night light to easily check on the baby. The sleeper has a flap that anchors underneath a mattress for safe co-sleeping if desired.
2. Window Guards
Windows account for more than 5,000 injuries in children and teens treated in the emergency room each year, according to a study published in the journal Pediatrics. Preschoolers are the most at-risk age group.
5,000
Injuries in Children & Teens Each Year Are Due To Windows
Children can easily push through a screen and accidentally fall out. Homeowners can have bars placed over their windows, but that is costly and may not be cosmetically desired.
Window guards are an inexpensive way to protect little ones from window hazards. The Kidco Mesh Window Guard is a great choice for protection. They have versatile mounting for either single-hung or double-hung windows that are 26 to 40 inches wide. The window guard is 24 inches in height as well. The mesh allows the room to benefit from the outside breeze while deterring children from playing with the window.
This window guard can withstand up to 60 pounds of downward force, effectively protecting a child from injury if they are leaning on it.
3. Safety Gates
Safety gates are one of the most common child safety products that families have. Safety gates can be used in doorways or in front of steps to keep children and animals in a specific area.
The Regalo Easy Step Walk Thru Gate is highly rated safety gate that is certified by the Juvenile Product Manufacturers Association and American Society for Testing Materials. It has a single-handed, lock-and-open feature for adults who may need to get through while carrying a child. The pressure mount system is great for walls and doesn't require any tools to set up. The Regalo Easy Step Walk Thru Gate can be found here.
4. Hearth Gate
When young families upgrade from their starter home to owning a home, their new home may have a fireplace. Fireplaces are a huge threat to the family and especially small children if the proper safety procedures are not followed.
Even if the actual fire is not in the open, the glass and metal components of the hearth can easily burn skin. Most hearths can reach temperatures of 500 degrees Fahrenheit.
500
Degrees Is The Temperature That Most Hearths Can Reach
According to Safe Kids Worldwide, children between eight months old and 2 ½-year-olds have the highest risk of burns from the fireplace. Hearth gates deter children from getting to the fireplace or wood burning stoves. It also aids in reducing accidental burns from people bumping into it if the room is crowded. Hearth gates can also be used around grills, so children and animals cannot be harmed. The Baby Safety Fence Hearth Gate is highly rated and can be used either indoors or outdoors.
It has a door handle for adults to easily access the fireplace or wood burning stove and keep children at a safe distance. The length of the gate is 122 inches and is customizable to fit any area. The Baby Safety Fence Hearth Gate can be found here.
5. Carbon Monoxide Monitor
Carbon monoxide poisoning caused 5,149 deaths between 1999 and 2010, according to the Centers for Disease Control and Prevention. About 30,000 people in the U.S. are sickened by carbon monoxide per year as well.
30,000
People in the U.S. are Sickened by Carbon Monoxide Per Year
Carbon monoxide is known as a silent killer because it is easily undetected by people due to it being odorless, colorless and tasteless. Carbon monoxide can pass through drywall as well.
Carbon monoxide detectors are imperative to monitor the level of carbon monoxide in the home. The Kidde Nighthawk Plug-In Carbon Monoxide Alarm is a highly rated choice among consumers. The unit has a digital display of the carbon monoxide level the sensors are measuring. It includes a light indicator to show that the monitor is functioning properly. An audible alarm will sound if rising carbon monoxide levels are detected. The Nighthawk Plug-In Carbon Monoxide Alarm can be found here.
6. Electrical Outlet Covers
Electrical outlets are a source of danger for children. According to the United States Consumer Product Safety Commission, more than 24,000 children were treated in the emergency room for injuries related to electrical receptacles between 1991 and 2001. These injuries affected an average of seven children per day. Boys between the ages of 2 and 3 are the most at-risk demographic for electrical receptacle injuries.
24,000
Children Were Treated for Injuries Related to Electrical Receptacles Between 1991 and 2001
Plastic outlet covers are the best and easiest way to ensure that children do not stick foreign objects into the unit and also aid in reducing short-circuiting. The most common object children shove into outlets are hairpins, followed by keys. Plastic outlet covers are inexpensive and easy to use. Find an eight-pack of plastic outlet covers here.
 7. Fire Extinguishers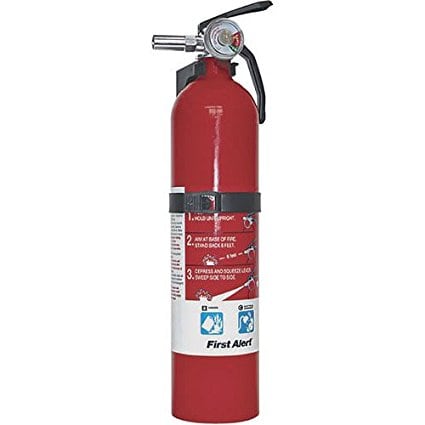 Fires can be devastating, and a majority of house fires are preventable. Around 374,000 house fires break out in the U.S. annually, according to the National Fire Protection Program.
374,000,000
House Fires Break Out in the U.S. Annually
Fire extinguishers are the best way to put out the start of a fire effectively and quickly. It is recommended to keep a fire extinguisher on every floor of the home and to keep one in the kitchen where most house fires start. A multipurpose fire extinguisher can here found here.
A first alert fire extinguisher can be found here at a lower cost.
8. Baby Monitors
Baby monitors allow parents and caretakers to have access to the baby wherever they are in the home. Many baby monitors are now equipped with cameras, so they are visible. This can help monitor sleeping children to ensure they are still safe and sleeping soundly.
The Smiles Baby Monitor with Night Vision Camera is a highly rated baby monitor with several features for added security. It allows for parents to talk through the monitor to soothe the child and also has automatic infrared night vision. The monitor keeps track of the temperature of the baby room for optimal comfort.
The transmission can reach up to 900 feet and can last up to 12 hours before needing to be charged. The Smilism Baby Monitor with Night Vision Camera can be found here.
9. Cord Windups
Window cord-related strangulation claims the life of a child between seven and ten months old each month, according to the United States Consumer Product Safety Commission. They also cause injuries from near strangulations. Cord windups reduce the risk by keeping the cords from dangling down, which also keeps pets safe.
The Rhoost Blind Cord Wind Up is a highly rated wind up that is BPA, PVC, lead, and phthalate free for added safety. They are also 100-percent recyclable. The wind up can be used for any style of blinds and is easily installed. The Rhoost Blind Cord Wind Up can be found here.
10. Safety Cabinet Locks
Children can easily get their hands on chemicals and accidentally poison themselves. Safety cabinet locks deter children from opening a cabinet and touching things they shouldn't.
300
Children are Sent to the Emergency Room Each Day From Poisoning
According to the Centers for Disease Control and Prevention, more than 300 children are sent to the emergency room each day from poisoning. An average of two will die. Kiscords Baby Safety Cabinet Locks are one of the various brands that produce safety locks. These locks can be installed on cabinets that have knobs or handles. They are easy for adults to open and cause no damage to cabinets. The Kiscords Baby Safety Cabinet Locks can be found here.