Neighborhood Watch programs help keep neighborhoods and communities safe. Starting your own crime prevention program—or reviving one that's already been started in your neighborhood—can reduce crime in your area and give you a greater sense of security, and can even help improve your property's value.
If you live in an area without a watch program, it is even possible to begin your own. Crime prevention programs require organization, good communication with other people from your neighborhood and good problem-solving skills, but by working in partnership with the police and your neighbors, you can start a successful crime watch group.
History of Neighborhood Watch
With crime on the rise, the National Sheriffs Association created the Neighborhood Watch program in 1972 to help improve community safety, bring neighborhoods together and increase awareness of neighborhood activities. Crime prevention programs were intended to give residents a feeling of responsibility for the condition and safety of their neighborhood, and each crime prevention program served as a link between neighborhoods, police and other law enforcement to reduce all forms of crime.
This grassroots effort has grown since its early days. In 2000, it was estimated that 40 percent of residential neighborhoods in the U.S. were covered by a crime watch program. Since September 11, the Neighborhood Watch program has expanded its focus beyond neighborhood safety into emergency preparedness and terrorism awareness.
Benefits of Neighborhood Watch
The chief aims of a Neighborhood Watch program are to report suspicious activity, reduce crime, and increase neighborhood safety. While beginning a Neighborhood Watch Program is not a guarantee of crime reduction, studies show that neighborhoods will experience an average of a 16-percent crime reduction under the protection of a Neighborhood Watch program.
Some other benefits of Neighborhood Watch include:
An increased sense of responsibility and control.
These programs help citizens feel empowered in their everyday lives, which can help reduce fear and may lead to an increased sense of personal security.
Greater unity within neighborhoods.
Regular meetings bring neighbors together to talk and get to know one another. This leads to a greater sense of unity within the neighborhood and can also bring neighbors together as friends
Improved relations with law enforcement.
Crime watch programs increase contacts between neighbors and law enforcement, leading to more productive and comfortable relationships.
Better community unity.
Having something in common, like membership in a Neighborhood Watch Program, brings people together and builds community unity.
Improved quality of life.
When crime goes down, the quality of life improves for residents. Safer neighborhoods mean happier residents and a better place to live.
First Steps for Forming a Group
Forming a neighborhood watch group can be a challenge, because generating interest and encouraging involvement takes effort and coordination. It helps to start by identifying the need. A crime watch group usually begins with specific concerns about unsafe (or potentially unsafe) activity in the area.
Collect data about crime rates in your neighborhood. Read the papers, watch the news, contact your local police department, and talk to neighbors who have been victims of crime. Record this data in a single notebook or computer document so that you can refer back to it later. This information will become helpful when it's time to make flyers, send emails, and organize your group.
Gauge Interest
In order to be successful, Neighborhood Watch groups require involvement from the people in the community. You can gauge and generate interest from the people around you in many ways. The first thing to try, though is having conversations with your neighbors about your concerns. They may share your concerns and have some of their own to share.
Flyers, mailings and posters can also help get people interested. Keep the flyers brief and concise. Explain:
Why the Group is Needed
Give statistics and mention incidents or problems most people would know about.
How a Neighborhood Watch Program Can Help
Share the benefits of Neighborhood Watch to raise interest.
Where and When the First Meeting Will Take Place
Tell people where to go, on what date, and at what time.
Who to Contact
Tell people how to get hold of organizers in case they have questions or need help reaching the meeting location.
Depending on the size of the neighborhood, one person may have a hard time spreading the word and organizing the meeting. Recruit some other involved members of your community to help you generate awareness and interest in your crime prevention group.
During this process, contact your local police department to invite them to work with you in your Neighborhood Watch group. Law enforcement will be a central part of your effort, so establishing a relationship with them will be important.
Plan the First Meeting
Make a social media page for your group. This can help you disseminate information, count the number of people attending, and make people aware of changes as they arise. Once you know how many people to anticipate at the first meeting, you can decide on a location for the event. Plan to serve snacks and have an agenda. This agenda may include:
Introductions. Before the meeting can proceed, have everyone who attends introduce themselves and share at least one story or concern they have about problems in the neighborhood.
Discussion of the problems in the neighborhood. Make a list of incidents and problems. Analyze the problems for patterns.
Recruit people to positions of responsibility within the group. Ask people to volunteer for Block Captains and the advisory board.
Brainstorming. Generate ideas to address the problems that you've identified. Your law enforcement contact will play an important role during this portion of the meeting.
Develop an action plan. Once your brainstorming session is over, developing a plan of action will help ensure that everyone who attends the meeting feels like the meeting has achieved a goal.
Establish a plan for the next meeting. Know what you want to discuss at the next meeting. Having a list will help ensure that nothing is forgotten.
When the meeting is over, send minutes to the group as a reminder of any commitments they may have made.
Organizing the Group
Most crime prevention groups need leadership and a clear structure in order to stay organized. The start-up committee or advisory board and law enforcement liaisons are generally at the head of the group. Block captains may be assigned to each block. Block captains are responsible for ensuring that information is disseminated to other people on their block. They also play a role in the coordination of Neighborhood Watch efforts.
Once the structure of the group has been determined, establishing a phone tree can help the group communicate in the event of an emergency. In a phone tree, every person is assigned to several other people in the group. When information is being passed around to other members of the group, the person at the head of the phone tree contacts the people that they are in charge of calling, those people contact the members of the group they have been assigned to reach out to, and so on. Set up drills to practice the phone tree so that everyone is prepared in the event of an emergency.
Take Action
Your neighborhood watch group will start forming its plan for your neighborhood from the first meeting. Your community police will help you decide what is the best plan for your neighborhood, depending on the type of challenges that your neighborhood might be facing. Some suggestions may include:
Trainings. Neighborhood Watch training from police can help people in your neighborhood increase their crime awareness and deal with other problems that your area might be facing.
Vulnerability study. Perform an assessment of your neighborhood's needs to decide where to concentrate your efforts.
Organize a neighborhood patrol. Neighborhood patrols are the eyes and ears for the watch group. Neighborhood Watch groups patrol in search of suspicious activity and contact the police when there's a problem.
Cleanup days. Vandalism, graffiti, and litter can negatively impact a neighborhood by driving down property values and encouraging other more serious crimes.
Keep Your Group Going
In the first days of your crime prevention group, getting organized will be your priority. Your neighborhood watch group will spend a lot of time establishing a routine, developing relationships with law enforcement and determining the areas of need around the neighborhood. Once this is over, maintaining enthusiasm among the membership will become critical.
Conducting drills and recruiting other members can help keep membership active and involved. Other ways to keep your group going include:
Expanding the mission. Many crime watch programs expand their mission into disaster preparedness.
Holding events. Holding neighborhood open houses and get-togethers can help recruit new members, build comradery and keep the group fun.
Starting a newsletter. A newsletter is a good way to reach out to non-members and raise awareness of important issues. Your crime awareness group may put one person in charge of the newsletter or may assign this publication to an entire committee. Use the newsletter as a platform to spread information about recent crimes, problems in the neighborhood and the various methods that your group has been using to prevent these events from reoccurring.
Taking on projects. Beautification projects can help the central mission by cultivating pride in your neighborhood.
Holding regular meetings. Groups start to fall apart when they stop having regular meetings. Schedule a regular meeting, at least every quarter if not every month, to discuss new incidents and troubleshoot new problems.
Putting up signs. Neighborhood Watch signs can raise awareness about your group and help recruit members, and they can even prevent crimes from taking place. Put up signs in your neighborhood to advertise your group's presence.
Making a Contribution To, Improving or Reviving an Already Existing Program
If you've recently moved to an area where there is an existing Neighborhood Watch, attending meetings can help you get involved. If you're not sure where or when the meetings take place, and if you're not sure who to ask, contact your local police department for more information. Volunteer for a position like Block Captain or contribute to the Neighborhood Watch newsletter to show that you want to make a contribution.
Reviving an existing program that has become inactive in recent years is similar to starting a program from scratch. Gathering data, coordinating with law enforcement, and holding a big event is a good way to renew a neighborhood's interest in their existing program. In some cases, old members may be resistant to a new generation of membership. Getting buy-in from existing members is an important part of revitalizing an under-utilized Neighborhood Watch group.
Building Relationships With Law Enforcement
The primary function of a crime prevention group is to report crimes, so building a relationship with law enforcement is a critical part of the success of any Neighborhood Watch program. Establishing a specific person from the Neighborhood Watch group to be in charge of communication with the police is a good first step.
This person will be in charge of coordinating with law enforcement, ensuring that the liaison knows when the meetings are taking place and scheduling upcoming police training. Inviting at least one police officer to each meeting is a good way to establish this relationship. There may not always be a police officer at every meeting, but it's important to keep the invitation standing.
Building Community Spirit Beyond Crime Fighting
Crime prevention is just one function of a Neighborhood Watch group. In addition to these duties, these groups also bring communities together, build morale and promote unity among people in the area. There are many ways that your watch program can bring your community together.
Social Events
Social events like mixers, holiday celebrations and open house events are a fun way to get other people from the neighborhood interested in the Neighborhood Watch group. Invite people from outside the group to participate. Put up flyers, send around emails and encourage people from the group to invite neighbors who are not involved in the neighborhood watch group.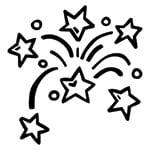 Block Parties
Block parties are an especially good way to build up morale and recruit new members. Encourage everyone from the neighborhood to bring a dish or food to eat. Play music, organize games and put up decorations to make the event a truly festive event. To be respectful of people in the neighborhood, don't forget to end the event early.
Where To Go For Resources On The Web
For anyone who wants to start a Neighborhood Watch group in their community, there are a variety of important resources available online. Some of the most authoritative resources include:
Neighborhood Watch Manual. This manual, created by the Bureau of Justice Assistance, is a comprehensive guide to beginning your own Neighborhood Watch group.
Starting a Neighborhood Watch. This short publication from the National Crime Prevention Council has a variety of practical suggestions for organizing a first meeting of Neighborhood Watch.
NNW.org. The National Neighborhood Watch website is a one-stop shop for people who are involved in or who would like to start their own neighborhood watch program. NNW.org sells signs and products that can help reinforce your group's presence in the neighborhood.
Persistence Is Key
By bringing neighbors together and encouraging them to work collaboratively, Neighborhood Watch programs can improve quality of life for residents and increase the safety of entire communities. Starting your own group can be challenging, but staying determined and persistent in the early stages can pay off. Work with your law enforcement liaison when starting your program, and get help from other people in the neighborhood.
In the beginning, focusing on recruitment and developing an immediate plan of action can help generate momentum and get things going. Once your group has a mission, organizational structure and a clear plan for moving forward, maintaining your Neighborhood Watch group may become easier. And never forget—you're there to help your local law enforcement, and you can usually rely on them for help and advice as you move forward.